Product Information
How Scrubba Bags & Packs work
Product Information
Grab an Allurette washer and 2 Allurette towels at a great price. 
The Allurette washer is perfect for gently and effectively washing delicate clothing and activewear, while the 2 Allurette towels make the drying process faster.
 With the Allurette washer and 2 towel combo you can:
Save time: Small loads can be washed in the Allurette washer in just a few minutes.  No more messy soaking or waiting for the washing machine, which is often too harsh on clothes anyway.  The Allurette towels mean your clothing will dry much faster by absorbing wetness from the clothing.

Avoid mess: The Allurette washer is self-contained, preventing you from having to mop up any soapy spills - ideal for anyone who avoids hand washing because the clean-up takes longer than the washing process itself. The Allurette washer can also be compactly stored after use.

Be organised:  Using the Allurette washer means no more soaking clothes in the sink or in buckets. The Allurette washer can also be used as a laundry bag for storing your delicates pre-wash, keeping them separate from the rest of your laundry. 

Extend the life of your clothes: The Allurette washer is gentle on clothes, keeping them looking clean, vibrant, and fresh, many washes in.

Save money: Longer lasting clothes means less money spent on their replacement or restoration. The Allurette washer is also electricity free and uses minimal water. As an added benefit, travellers can avoid hotel laundry fees by taking this highly portable wash bag along on their adventures. 

Protect your skin: Hand washing exposes you to harsh chemicals that can, over time, dry out your skin, leaving it cracked and worn. This makes hand washing a truly problematic task, especially for those who suffer from sensitive skin or conditions such as eczema.  As clothes are rubbed from the outside of the Allurette washer, however, hands remain dry, with minimal exposure to potentially damaging liquid detergents.

Care for the environment: Because the Allurette washer requires no electricity, uses minimal water, and enables grey water to be disposed of away from the water source, you can enjoy using your Allurette anywhere, confident in the knowledge that you're respecting the environment and helping to maintain the beautiful planet that we all share.
Dry your clothes faster: Simply place the Allurette gentle towel on a flat surface with your wet clothes on top, then fold the towel over your garments and carefully press together. The towel's highly absorbent microfiber material will quickly remove a large quantity of moisture from your clothes, reducing the overall amount of time required to dry them. We recommend pressing each item individually to achieve the best results.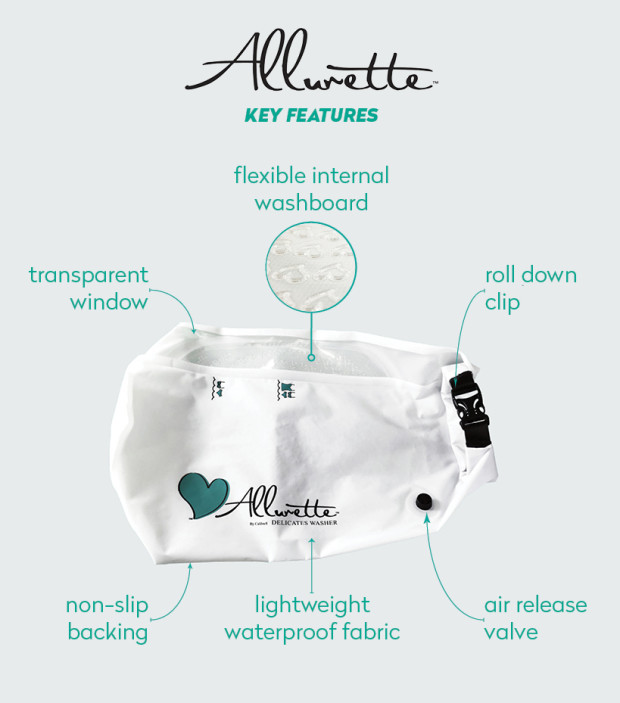 Allurette washer specifications
Weight: 
112g
Dimensions: 
49 cm x 26 cm when laid flat
13 cm x 6 cm x 6 cm when rolled and clipped for storage.
Allurette towel specifications
Weight: 
88g
Dimensions: 
64 cm x 80 cm when laid flat.
18 cm x 15 cm when folded in its packaging
How Scrubba Bags & Packs work
The Scrubba wash bag, Scrubba stealth pack, Scrubba W pack and Allurette washer all feature internal washboards that allow a machine quality wash in minutes.  Using them is as simple as:
Add clothes, water and cleaning liquid; close and deflate the bag; then rub from the outside for up to 3 minutes then just rinse and hang to dry.
Compared to traditional washboards, the ones in Scrubba and Allurette products are ultra thin and flexible and they are enclosed in the bag or pack.  As the rubbing is done from the outside of the bag, there is minimal mess and your hands remain drier.  
The Scrubba bag, pack and Allurette washer also double as dry sacs to keep gear dry between washes.