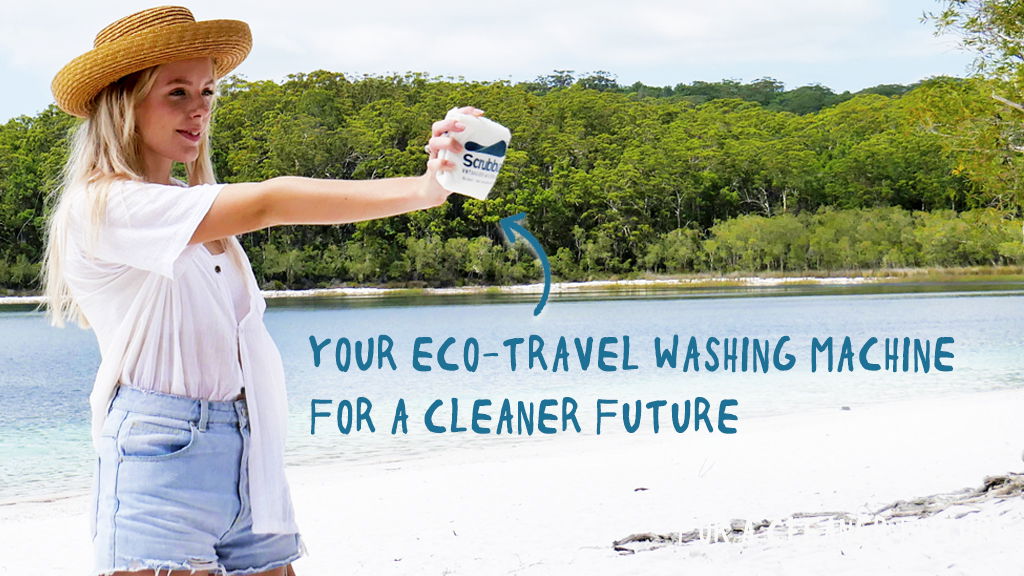 We've been busy.
The COVID-19 pandemic saw the travel industry grind to a halt in 2020 as lockdowns, work-from-home and social distancing became the norm. During this time, the earth took a deep breath as pollution dropped for the first time in decades. We also went to work improving the environmental nature of our original Scrubba wash bag (aka the world's smallest washing machine for travel and camping).
Pre-order Here
The NEW Scrubba Wash Bag Untouched
We are back with the new Scrubba wash bag Untouched, an undyed and unbleached version for an even cleaner future. This is your opportunity to be the first to own the

Scrubba wash bag Untouched, the portable travel washing machine that has been made with a minimal environmental footprint and that will save water and prevent pollution for years to come.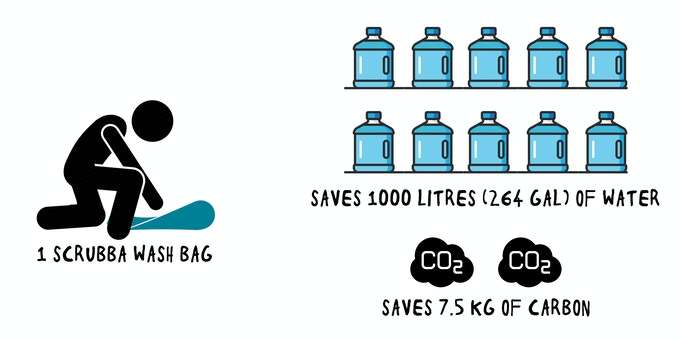 Saving money, carbon, water & time since 2012
Since it's launch in 2012 the original Scrubba wash bag has provided a convenient way for over 240,000 travellers and campers to pack less and clean their clothes anywhere (even in lockdown) in just minutes while collectively saving millions of litres of water and tonnes of carbon.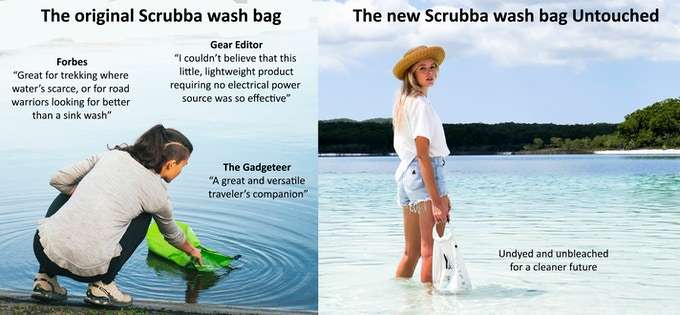 How is the Scrubba wash bag Untouched even more eco-friendly?
The Scrubba wash bag Untouched is identical to the original Scrubba wash bag in all respects with the only exception being the colour (or lack thereof) of the bag. The Scrubba wash bag Untouched is made from nylon fabric that hasn't been bleached or dyed.


The reason for avoiding bleach and dyes is to reduce the amount of water used during production, reduce the amount of waste water treatment required and reduce the energy input required. That is, we are lowing the carbon and environmental impact of the Scrubba wash bag's production.


There are many people who love the original bright green or black Scrubba wash bag or the coyote brown Scrubba tactical wash bag. While having a larger production footprint than the new Scrubba Untouched wash bag, the original Scrubba wash bags will still save many kWh of electricity and thousands of litres of water throughout their lifespan as you use them around the world. The release of the new Scrubba wash bag Untouched gives you the option of further reducing the environmental impact.
Pre-order Here
No bleaching, no dying.
By omitting all bleaching and dying steps, less water and electricity is used in the production of the new Scrubba wash bag Untouched and less waste water needs treatment.


The Scrubba wash bag Untouched folds to pocketsize, weighs just 142g (5 oz.) and is made from 40 denier nylon. The inner coating, window and washboard are made from polyether TPU, which is much more eco-friendly than PVC, has good low temperature flexibility and confers resistance to microbial growth and hydrolysis (water damage). Seams are high frequency welded to provide a permanent waterproof bond.

The Scrubba wash bag Untouched (like the original) is designed to last years.



What makes Scrubba wash bags so special?
All Scrubba wash bags feature a patented washboard-in-a-bag design that allows a machine quality wash in just minutes while using minimal water and no electricity.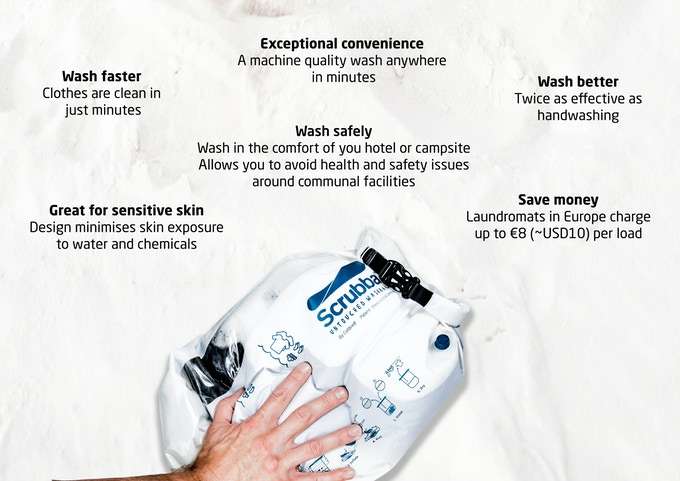 How much can be washed in a Scrubba wash bag?
The Scrubba wash bag is sized to wash 2 days of summer wear in each load (i.e. 2 T-shirts, 2 pairs of underwear and 2 pairs of socks - or a pair of jeans) and uses around 3-6 litres (1-1.5 gal) of water for a wash cycle and around the same for a rinse. If you have less clothes, simply use less water.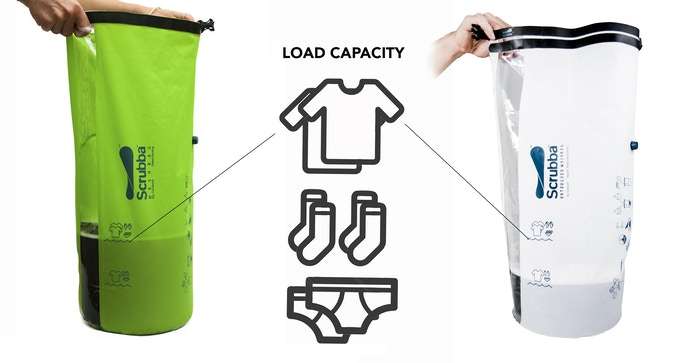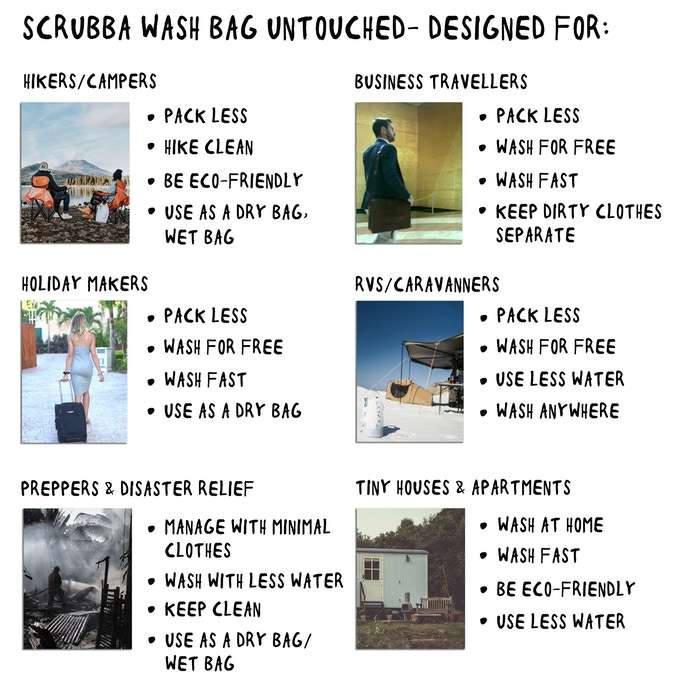 Why pack a Scrubba wash bag?
A survey of 700 travellers showed that Scrubba wash bag users pack less and travel longer. They love the convenience of being able to wash clothes anywhere - whether in a hotel room, the back country or in an RV.

On average they use the Scrubba wash bag every 2-3 days while travelling with an average total of 40 washes per year. With Laundromats in Europe charging up to 8 Euro (~USD8.80 or ~AUD13.37) per load and hotels $5-$10 per item, a Scrubba wash bag will quickly pay for itself.