Product Information
How Scrubba Bags & Packs work
Product Information
1 backpack | 4 stealth functions | No limits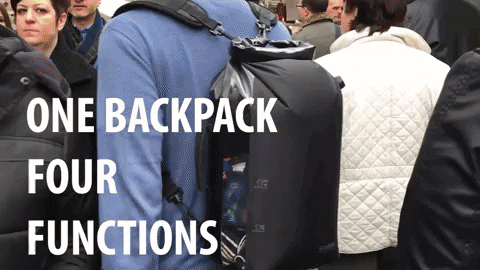 The lightweight Scrubba stealth pack offers greater functionality for travellers, outdoor adventurers, and eco-commuters. Our most versatile bag yet, the stealth pack combines the Scrubba wash bag's signature internal washboard with several new features, enabling innovative stealth functions for: 
washing clothes anywhere
keeping gear dry
showering anywhere
packing smaller
The Scrubba stealth pack enables outdoor enthusiasts to minimise their luggage and maximise their adventures, no matter where their journeys take them. Loaded with handy features, it rolls a "washing machine", outdoor shower, and compression dry bag into one durable, weatherproof backpack, making it the only piece of gear to both carry travellers through the adventure and wash off their mud and sweat at the end of it.
Thanks to its 21L capacity (40% larger than the original Scrubba wash bag), the stealth pack  allows for greater laundry loads and easily accommodates all the gear needed for basic day trips, including most laptop sizes.
Not just a convenient piece of carry-on, this sleek black pack also compresses down for smaller, neater packing, allowing globetrotters to travel in style the way that suits their style, no compromises. 
Adventure by day, wash by night, pack smaller and go further, with the Scrubba stealth pack. 
With the Scrubba stealth pack you can:
Wash clothes wherever and whenever you want thanks to the internal, flexible washboard
Keep gear dry.
Achieve a machine quality wash in 6 easy steps
Pack fewer clothes and travel with a lighter backpack, bag or suitcase
Alleviate the need to ineffectively wash clothes in dirty hotel sinks
Avoid excess airline baggage fees by packing fewer clothes
Save money and water when doing laundry while travelling
Shower outdoors
Compress down for smaller, neater packing
Features: 
Waterproof 40 denier nylon fabric with a 210 denier nylon back panel
Roll down, weatherproof seal
Multifunctional valve
Flexible internal washboard
Heavy duty, square base
Viewing window
Carry handle for maximum portability
Three gear loops
Adjustable, modular foam shoulder straps
Adjustable sternum straps
Sunglasses loops
Perfect for:
Day trips
Hiking
Camping
The beach
General travel and outdoor adventures
Cruising or sailing
Specifications:
Weight: 455g with straps and 245g with straps removed.
Dimensions: 54cm x 37cm when laid flat.
Capacity: 18L (2-8L is the optimal working volume for washing clothes)
How Scrubba Bags & Packs work
The Scrubba wash bag, Scrubba stealth pack, Scrubba W pack and Allurette washer all feature internal washboards that allow a machine quality wash in minutes.  Using them is as simple as:
Add clothes, water and cleaning liquid; close and deflate the bag; then rub from the outside for up to 3 minutes then just rinse and hang to dry.
Compared to traditional washboards, the ones in Scrubba and Allurette products are ultra thin and flexible and they are enclosed in the bag or pack.  As the rubbing is done from the outside of the bag, there is minimal mess and you hands remain drier.  
The Scrubba bag, pack and Allurette washer also double as dry sacs to keep gear dry between washes.